Feedback from viewers, guests and news about the show
When Del met Tan Dhesi MP:
After the show I was touched, humbled and to be honest a bit gobsmacked at the number of people who phoned, texted and emailed me to congratulate me.  In fact the 
feedback across all networks to the first show has been brilliant, glad so many watched and likedwhat they saw - makes it all worthwhile.  Did get a couple of haters but then can't please everyone.​​​​​​   People loved the  the show from the opening Dragons Den intro explaining the show to the title sequence.....especially the "make up"...... yes I do use all that stuff - lol.   Here's a just some of the comments people have made;

Have actually had feedback from UK but also as far a field as Ukraine and US from viewers many who are non-Sikhs who watched the channel for the first time and found it interesting.   Hopefully in the coming weeks as the word spreads and the show is put online more people both Sikhs and non-Sikhs will will watch all around the world.   Whilst we never set out on some global grand mission we did hope that the show would be watched by a broader English speaking audience in as many regions as possible so it is gratifying to know the broad reach will help break down barriers and dispel myths about Sikhs.    

​Thank you everyone who tuned in and please do tell others and let them know shows are available online at this site, on YouTube and Sikh Channel FaceBook page.

Thanks for the Bantz - tune in for me every Friday at 9.30pm GMT on The Sikh Channel.
"Original brilliant.....very professional presenter with

a nice style"​​

"Finally Sikhs having a laugh, and not all serious"
"Almost forgot I was watching the Sikh Channel"
"Good banter I loved it, will   watch more"
"My grandmother didn't   get it, I did....I'm in dragons"
"Why's this on Sikh Channel...speak in Punjabi we're not English people"
  are doing and its very   interesting "
"Telling all my friends as its in English and dead funny"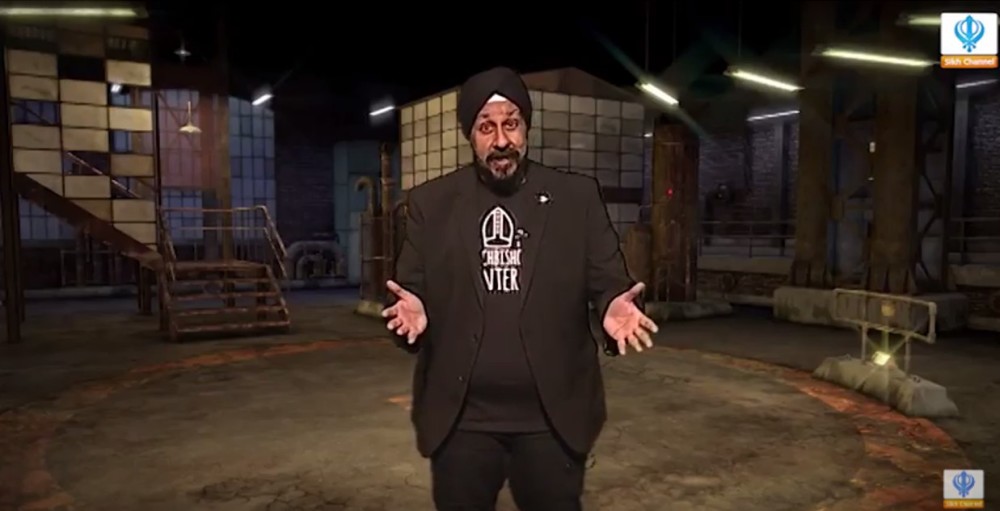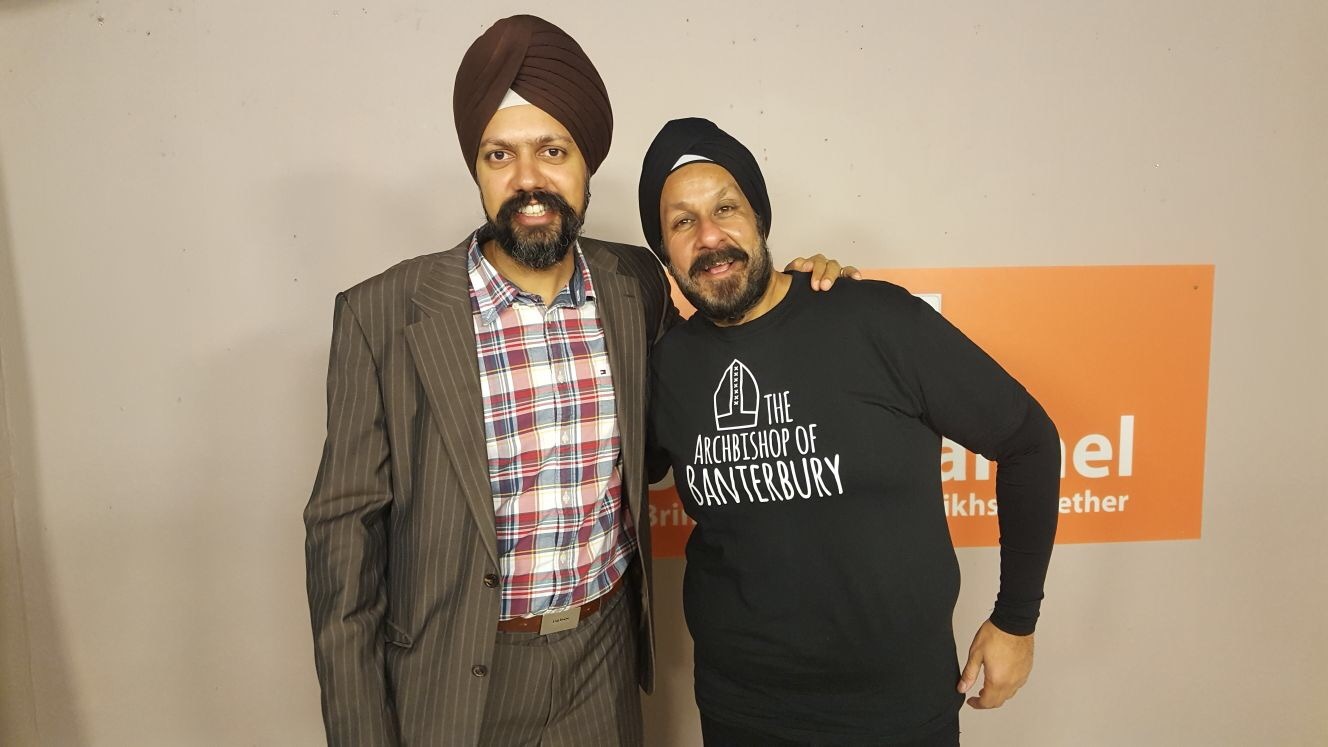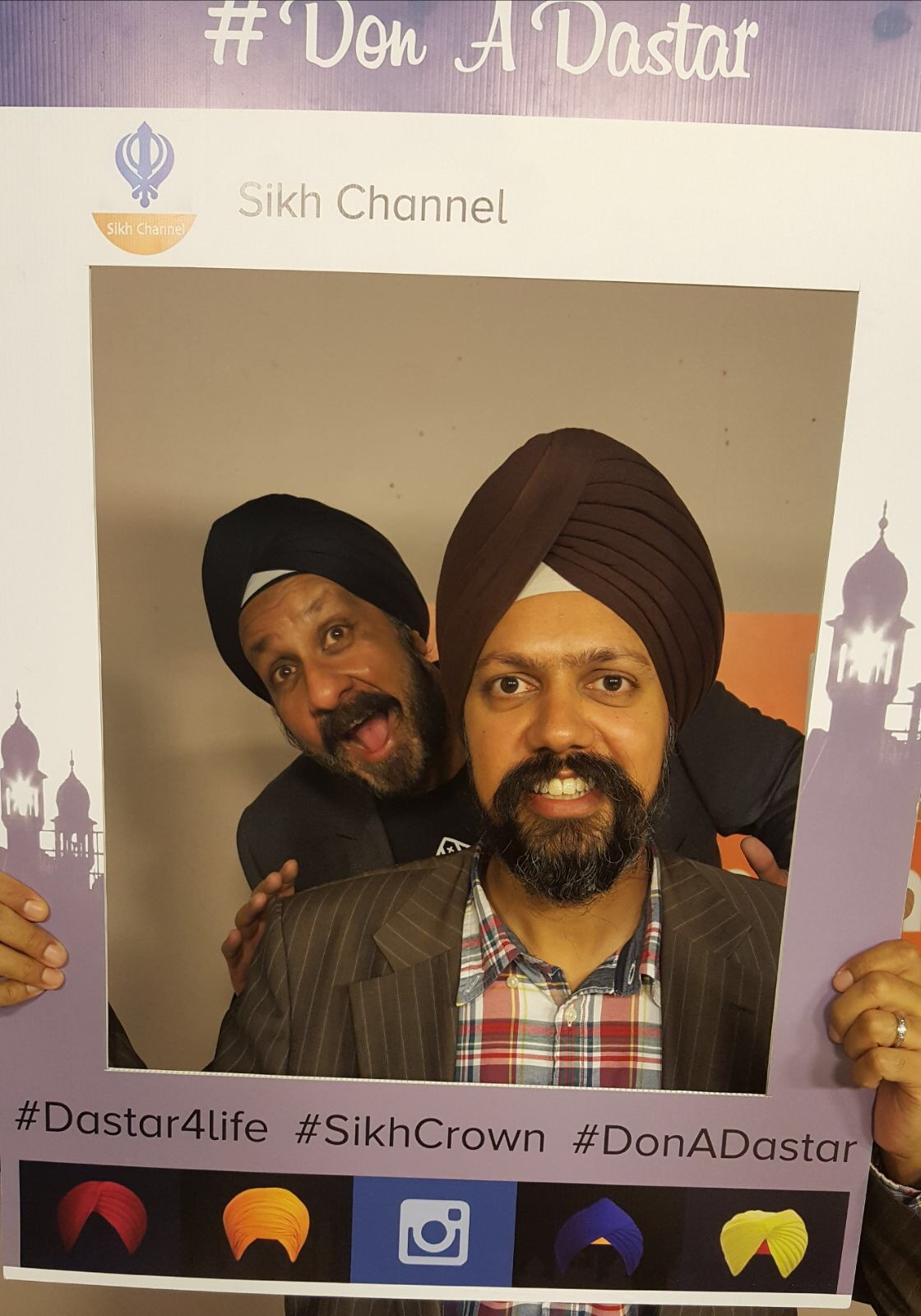 When Del met Jeremy Corbyn MP:
I've had more than a few people ask me about my banter with Jeremy Corbyn MP leader of the Labour Party and how it came about?   Well I have to thank my good friend Tan Dhesi MP for Slough who invited me to a special event laid on at Labour Party HQ in London to celebrate the birth of the founder of the Sikh faith Sri Guru Nanak Dev Ji in November.   Firstly a great shout that any political party values and recognises the Sikh religion and puts on an event .....other parties could learn from this.
I happened to be in London on the day at the office so after work I hightailed it over to Millbank and in view of the suicide of a Labour Minister in Wales that morning the event whilst being a celebration had a slightly sombre tone.   At one point it looked like I wouldn't get a chance to speak with Jeremy but thank you to Angie and the rest of his team they granted me access to him for a few minutes.    As you will see from the video under the TV Shows page we definitely had some banter and what is more we had a bit of a laugh on what was a difficult day for him.  His media people liked me as I got him smiling and said, "We like you, you can come back again".  I reckon I will take them up on this in the near future. 
In the few minutes I had with Jeremy Corbyn I was able to chat, politics, votes for the young, Glastonbury and Arsenal FC as we are both Gooners...oh, and depression as we are both Gooners - lol.
For those asking why I have only met with Labour politicians is this because I am anti other parties, the answer is definitely not.  It just so happens the Labour Party has Sikh MP's and that's where we started but as we move forward I do hope I can meet with politicians from other parties they needn't be Sikh.   The show isn't a political platform but on occasion my personal dislike of some people, issues and things will surface but then humour and satire allows one to mock the issues of the day.  Any other politicians from any party interested in some banter, drop me an email please.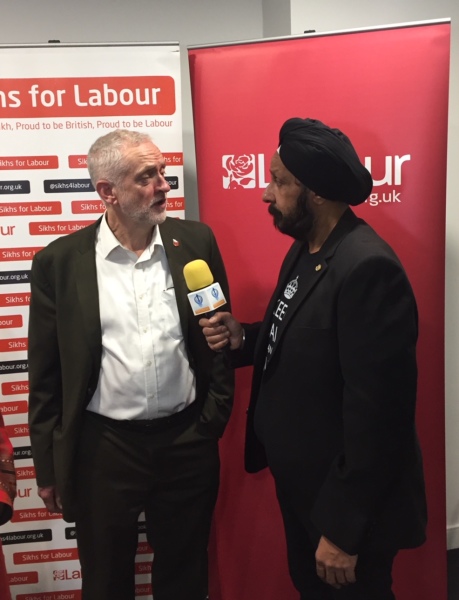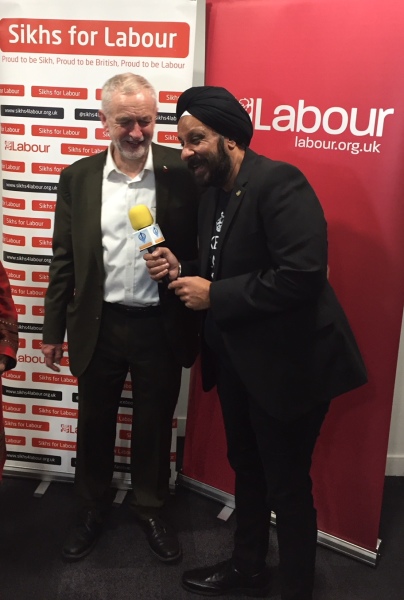 All feedback good or bad, and questions in general are most welcome, and I have had a few in recent weeks while making Late Night Banter and after the show aired.   Here are some of these questions and my replies;
1. Why isn't the show live like chat shows on BBC or ITV?
Sorry to burst your bubble but most chat  shows on these and other channels are pre-recorded and only the big "telethon" shows like Children In Need are recorded live.  Also getting guests to commit to a live slot at 9.30pm on a Friday night would be hard work, even the legend that is Graham Norton  has to pre-record ahead of Friday night airing.   With that said the Sikh Channel does have a number of live shows with guests and the presenters do a great job but based on the late night slot we have it isn't practical to do the show live.
2. What about having a studio audience?

This is more about practicality and studio space as clearly the Sikh Channel doesn't have the studio facilities of say the BBC or ITV to record big set pieces.  Also as our guests are not Hollywood A-List or famous celebrities we are unlikely to have people queuing around the block to be part of a studio audience. 
3.  Do you go through all the questions with the guests before recording the show?

In a nutshell no.   Outside of emailing guests to set up our interview I generally meet them for the first time when they arrive at the studio or I meet them at their offices on the day of the recording.  If I am lucky we get 5 or 10 minutes to chat before we sit down and the cameras start rolling.  Whilst I might in advance ask them to think of their 3 guests for Dinner Party, they know nothing else of what I will be asking them nor I as to how they might respond.  So basically the cameras roll and we chat and there are no re-takes, whatever they say and I say is recored and that's the show.   As "fishbowl" is totally random questions even the smartest people get stumped and while it is a little unfair as it puts them on the spot, it is just a bit of fun to round the show off.  The aim isn't to embarass anyone simply to finish off with a laugh, and so far everyone has loved fishbowl, even if they haven't liked their on the spot answers. 

4. How about letting viewers phone in to ask questions or participate?
Good question as we originally considered having a viewers slot with them sending in videos, we have found that we simply didn't have the time as guests wanted to chat and the original 30 minute show running time was extended to 50 minutes.   We agreed on a straight chat show format for Late Night Banter and as we were pre-recording it makes it hard to do guest phone in's to be aired at a later date.   Yes we could get viewers to email in questions but again this depends on us knowing well in advance which guests we have lined up, and this hasn't always been easy.   I would still very much like to explore the concept of viewers sending in their videos nd ideas - one for the future possibly.

5. Why didn't you record a Punjabi version at the same time as we speak Punjabi not English, you are betraying your roots?

Without getting emotional I don't consider myself a traitor to my roots as I am a British born Sikh, so whilst I do speak Punjabi, English is and has been my first language since birth - shock horror.   In all honesty I would find it hard to articulate and express myself and my sense of humour in anything other than English.   Also some of our guests have already been interviewed in Punjabi on both the Sikh Channel and other Indian channels and therefore we didn't simply want to re-tread old ground.  Late Night Banter was designed to be different and also reach a broader audience that includes younger Sikhs who maybe are less fluent in Punjabi or a non-Sikh audience.   Judging from reactions to the first show it is clear we may have upset some traditional Sikh Channel viewers whose preference is Punjabi as a language but we have reached some younger viewers and definitely non-Sikh viewers who have never watched the Sikh Channel. 

I stand by the fact that around 80% of content on the Sikh Channel is in Punjabi language so a small percentage of programming in English is not an unreasonable ask, especially since the channel started in the UK and all shows are being recorded in the UK.   I would dearly loved to have pleased everyone but as one cannot please all of the people all of the time, I apologise to those who don't like the show, we will miss you as viewers.

6. What are the words you say at the start of the show in Punjabi?
In starting the show there are a couple of Sikh greetings for viewers before the Hi and Hello, and I have been asked about the meaning of these.

The significance of "Waheguru Ji Ka Khalsa Waheguru Ji Ki Fateh" according to Gurbani (Sikh holy teachings).   The simplest interpretation of this greeting or slogan is that Khalsa (True Sikhs) belong to Waheguru (God) and also the victory (Fateh) also belongs to Waheguru.   The words Sat Sri Akal are a more formal greeting but still have religious significance in that rough translation is;  "True is the name of God". ... so the victory belongs to God!".

When Del met Sir Harpal Singh Kumar - CEO Cancer Research UK:
Got some great reaction to the show with Sir Harpal Singh Kumar, CEO of Cancer Research UK particularly from those who have fund raised for Cancer Research UK and those who have battled cancer or know someone fighting it.
Had even more emails, calls and texts than last week so it looks like people are enjoying the banter, Alex from Ukraine glad you found the show good and your fundraising for Cancer Research UK while in UK was money well spent well in finding cures! 

People were impressed with the flow of the chat and were surprised we'd never met prior to the show yet we had great chemistry.   The fishbowl "sandwich filling" question had people creasing with laughter....the fact such a smart guy struggled with the question.   

I was pleased to get the chance to hand over my cheque for monies I raised in running my first half marathon for Cancer Research UK to the boss of Cancer Research UK. 

Definitely will be looking out for Harpal (my new mate) at the Roger Waters gig in Hyde Park next year.

Best reaction happened on 13th December as follows; 

Walking out of Kings Cross train station heading towards the underground I was stopped by two Indian ladies. I thought they were going to ask me for directions but instead said, "Del Singh paaji we saw your show on Sikh Channel and really liked it". Fair to say I was both taken aback and pleased at the same time.
I joked that I was delighted that at least two people other than my wife and mum had watched it. They were mother Jasbir Kaur and her daughter Gurpreet traveling back to Leeds from London. Jasbir told me she was amazed her kids who are in their late teens were actually watching the Sikh Channel as they never do and they in fact told their parents about Late Night Banter. Gurpreet said she liked the fact it was in English and not all serious, a bit jokey and interesting guests and chat.
They asked who else was coming on the show and if I'd have non-Sikh guests too? I said if the show proved popular and viewers wanted a broader guest list then fingers crossed. They said they're getting all their friends and relatives to watch. That in itself was so good to hear!
Slightly embarrassed as they took a selfie with me and I thought it too creepy to ask for one with them - wish I had after they walked off to catch their train. I'm not used to people wanting a photo of me, unless I've just crashed into their car 😂
Sitting writing this I'm still glowing with delight that I have a small but growing fan base in Leeds and hopefully elsewhere too. #latenightbanter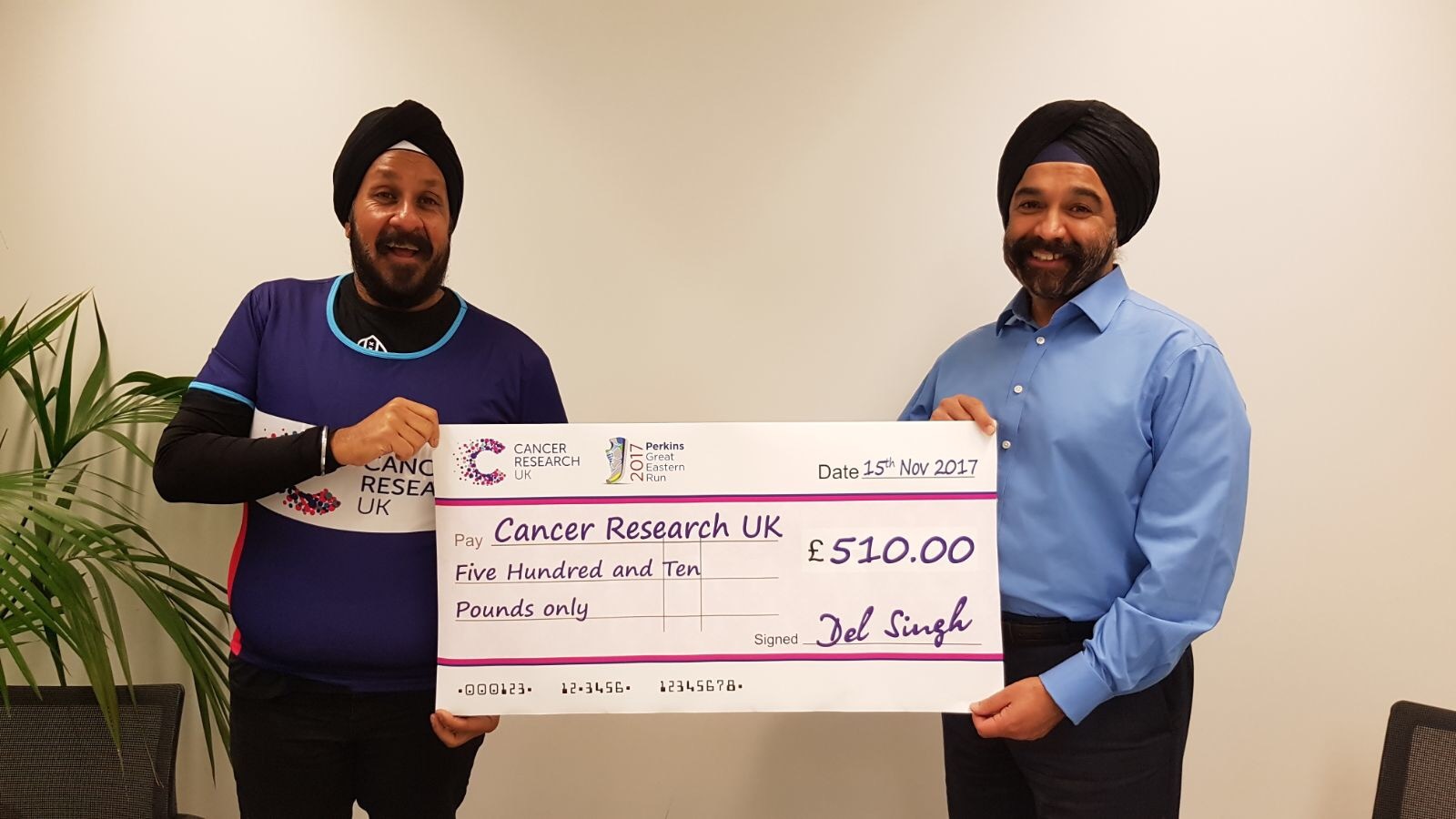 When Del met Perminder Mann - CEO Bonnier Publishing UK:
Perminder Mann, CEO of Bonnier Publishing UK is a very driven lady and for anyone who is looking for a female business role model or a powerful Sikh female look no further.    Perminder is definitely inspirational and has worked hard for success in the tough world of publishing.   I will be keeping tabs on her and her company .....and maybe a follow up interview as I am sure there is more to explore.

I know Perminder is keen to see more Sikhs, in fact more people from ethnic backgrounds and also more females in the world of publishing so if anyone who has watched the show wants to contact her, then email me and I promise to pass on your emails to her. 

On a personal note, Perminder is well connected in her publishing role so I hope she might introduce me to some more inspirational folks and the odd superstar!

Talking of great female role models following last night's show I was asked to go onto Tina Balnain's Soch Vichar show on The Sikh Channel the following day.  Tina does a great job and has a very loyal viewership so I was delighted and slightly surprised to be asked to be a guest.  What is more Tina's show is in Punjabi and allowed me to explain to the more traditional Sikh Channel viewers what Late Night Banter is all about.   I did explan that whilst the show is attracting new viewers to the channel some folks have been more critical primarily because its an English language show.....its the smallest of thing with some folks - lol.

Thanks for the chat Tina and if you missed the show click below to watch....unlike Late Night Banter, Tina's show Soch Vichaar is in Punjabi in the main. 

​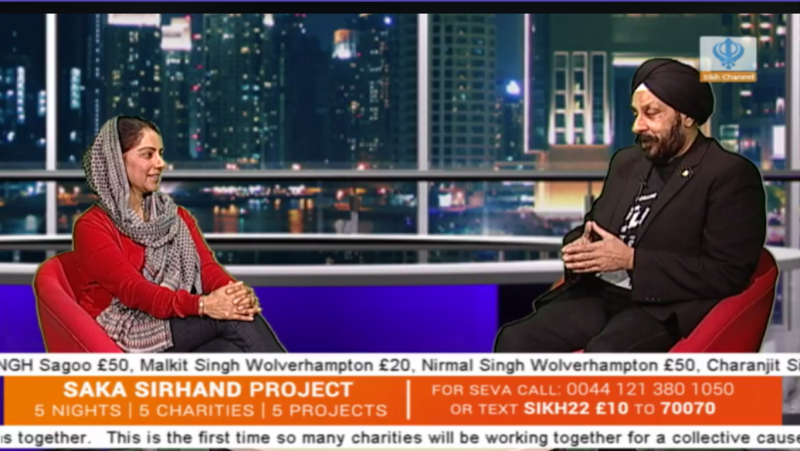 When Del met Bhai Fauja Singh Ji - World's Oldest Marathon Runner (Aged 100):
Bhai Fauja Singh Ji was actually one of the first guests I reached out to via his trainer Harmander Singh who literally runs Sikhs In The City a running club in East London.  As the oldest marathon runner in the world having completed the Toronto Marathon aged 100 in 2011 many people both Sikhs and non-Sikhs with an interest in running wanted to know more about him.  What is more as I was in training for my first half marathon on a personal level I wanted to meet such an inspirational man.   Rather unsportingly the Guinness Book of Records didn't recognise his oldest marathon runner record as he couldn't provide a birth certificate!  The fact they didn't have birth certificates in the UK in 1911 what makes them think they would have them in India.  Her Majesty and Buckingham Palace sent Fauja Singh a telegram recognising his 100th birthday in 2011, clearly the Book of Records question her's and the Palace's wisdom on this one!

I really did enjoy my meeting and interview with him and while it was less banterish as he only speaks Punjabi it was never the less an interesting and fun meeting.  Sadly the interview had to be split into two parts to accomodate the Sikh Channel's Saka Sirhand Charity event but it was such a great cause how could I refuse.  Also somewhere along the line a phone interview with Fajua Singh's trainer Harmander Singh got mislaid so some of the questions I couldn't ask him directly which Harmander answered were not aired.  Had viewers heard the chat with trainer Harmander Singh they would have learned of the tragedies in Fauja's personal life including the death of his wife and witnessing the decapitation of his son in a freak accident that sent him into deep depression.  To overcome the depression he was sent to family in the UK and embarked on marathon running to fight his depression and find purpose in his life.  For those with questions on Fauja Singh and want to learn more about his story there is a wealth of material on the internet about the Turbaned Tornado and a good place to start would be his

Wikipedia

page.
I was amazed at how humble and charming Fauja Singh was when we met and how lucid he was at age now of 106.  I was deeply touched when he said that on the day of our interview he had awoken with a heavy heart and was feeling down, but my chat and nature of my questions had raised his spirits, and he thanked me for this.   His words of wisdom to me about my own half marathon adventure were pricless and I have had a few people contact me to say that when he said I was "built like a horse" he really meant I looked like one and I shouldn't take it as a compliment - lol.

Although retired from marathon running Fauja Singh still runs the odd 10k with and for the kids to whom he is an amazing role model.  Running 10k at 55 years of age isn't easy so at almost double that age is an amazing achievement.  I for one will cherish forever my meeting with this amazing man and I know when I was digging in around 10 miles into my 13 mile half marathon the words of Fauja Singh in my ears carried me over the finish line.

​

​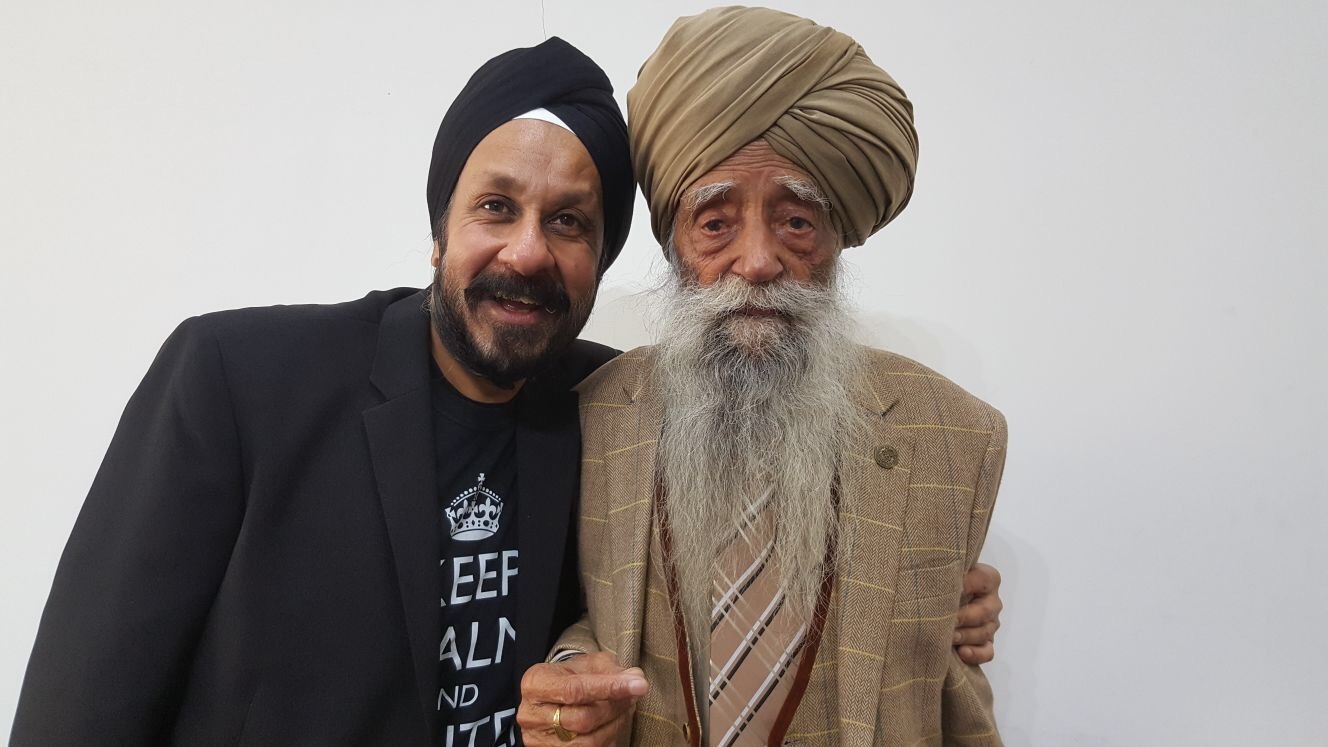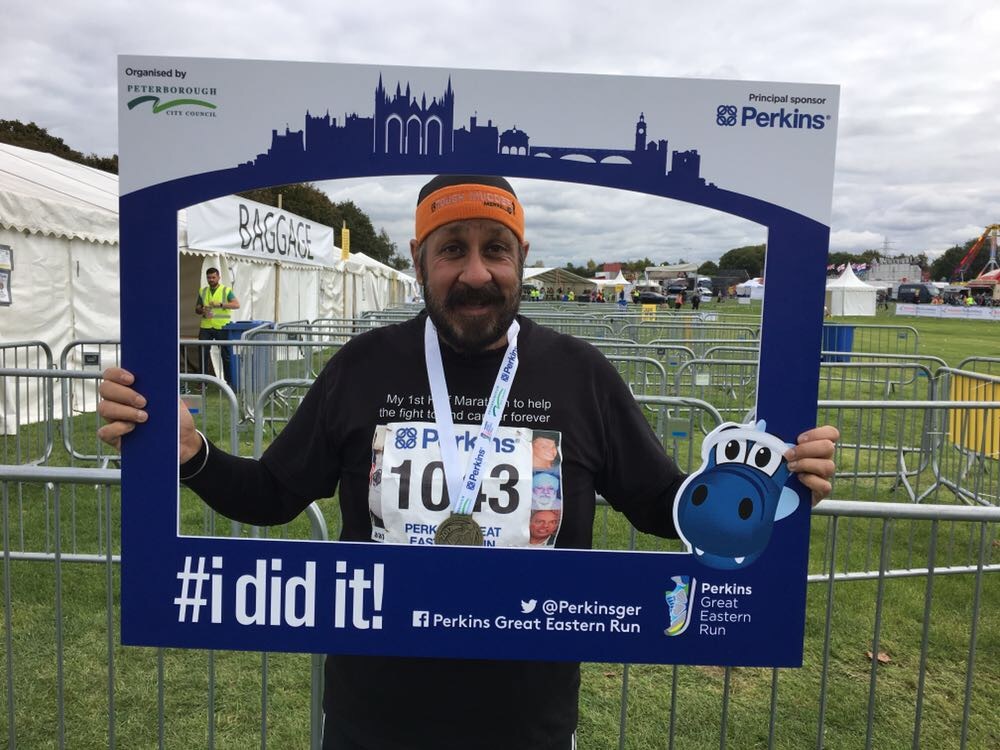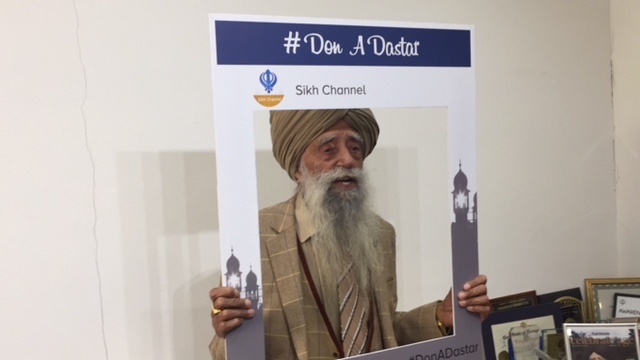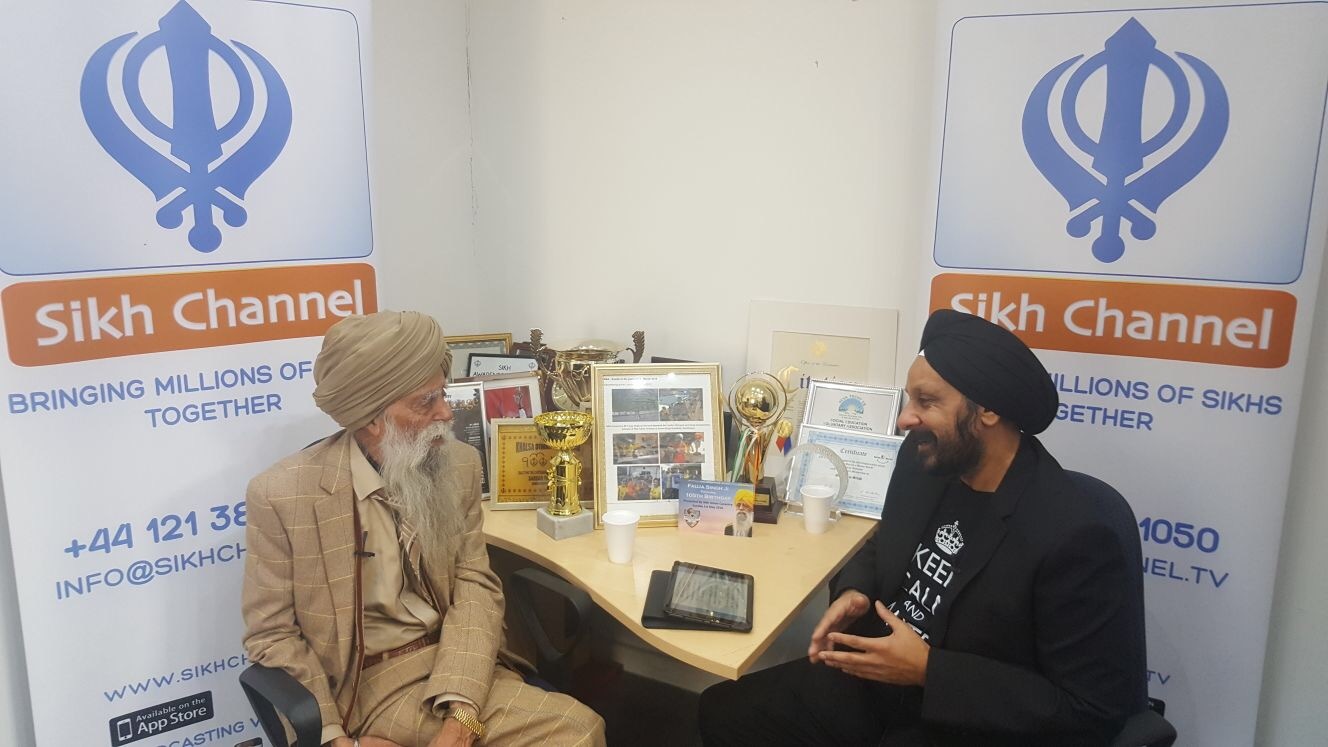 ​When Del met Preet Kaur Gill - MP for Edgbaston (1st Female Sikh MP in the UK):
Preet Kaur Gill was actually the first guest I interviewed back in September and as the cameras rolled the nerves kicked in a bit, hence the slighty pause and hesitation when I introduced her.   Some of this was down to the fact I was using an autocue for the first time and felt myself looking at it too often instead of at my guest.  To be fair Preet was a bit nervous not knowing what this idiot was going to ask next and also and my bumbling about probably didn't help to put her at ease, but as we both got into the interview we relaxed and the nerves went and we got a nice flow in banter going.   
As it was the first show and I was road-testing the questioning format and also doing my best to not say anything rude or inappropriate.  Furthermore I wasn't sure how spots like Dinner Party and Fishbowl would work.  I'm glad to say in the end it all came together and the biggest compliment was when at the end of the recording my gues Preet said, "That was different to the usual interviews I've done for Sikh Channel and others, I liked it".   Phew there was an audible sigh of relief from me and then when the studio team came in and said they thought it was great and would probably air the whole interview of 55 minutes instead of editing it to 30 minutes, I was thrilled to bits.
Over the weeks and months after this first interview I started to relax into the format and I also ditched the autocue which is why the later shows have a more natural and less scripted feel to them.  The one thing I didn't lose though was the ad-libs and jokey comments which all my guests to date really liked.  I was also able to fine tune the Dinner Party and Fishbowl spots a little more and customise these based on the guests reactions.
This whole experience has been amazing and the best compliment I received was from one of the channel's location camera guys who said to me after an interview, "Did you used to be on the BBC?".   Now he either thought I was very professional or he'd seen me on an episode of Crimewatch! 
Great feedback after the show with Preet Kaur Gill, including this lovely email from Jennifer Lane a non-Sikh lady from Canada who watched the show with her daughter and.  I replied to thank her and tell her that there were no plans for me to banter in Canada, but never say never.   She said I could put her nice email on the website so long as I didn't give out her email address.   This is what she said;    
​Extremely humbed by such lovely words and from someone who is not from the Sikh community but who found the shows interesting and fun - thank you Jennifer.